White outfit to make you look thin and tall!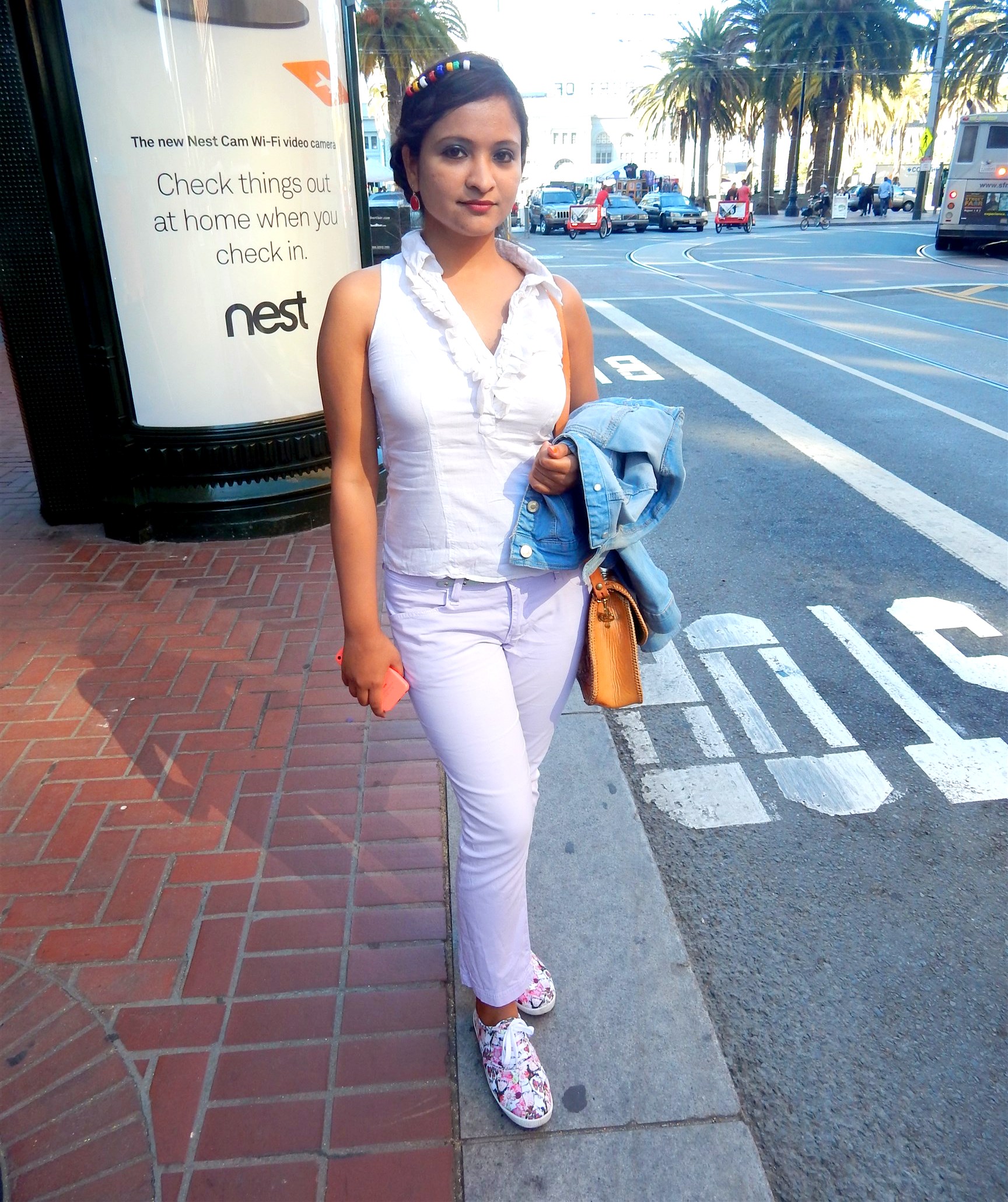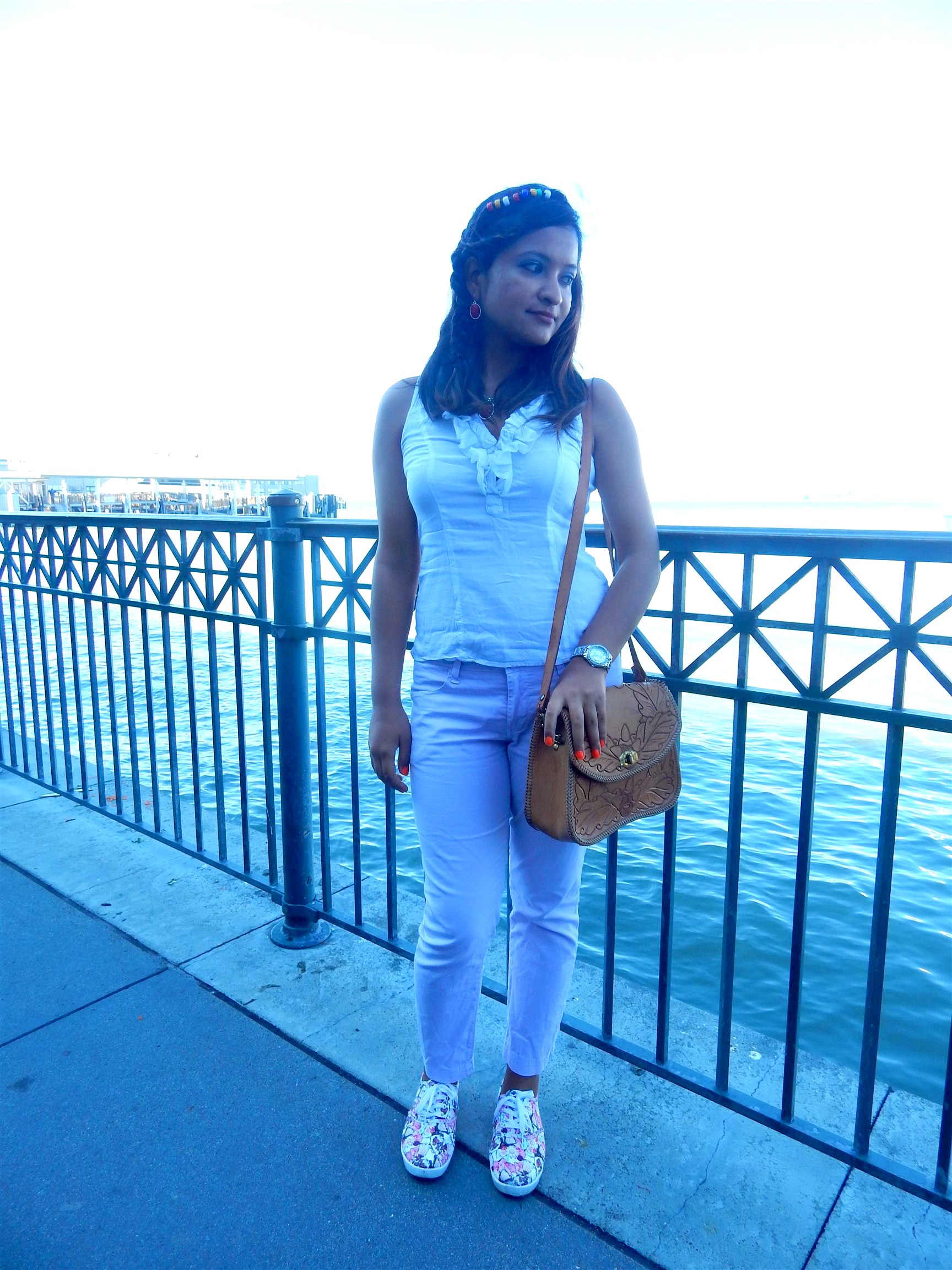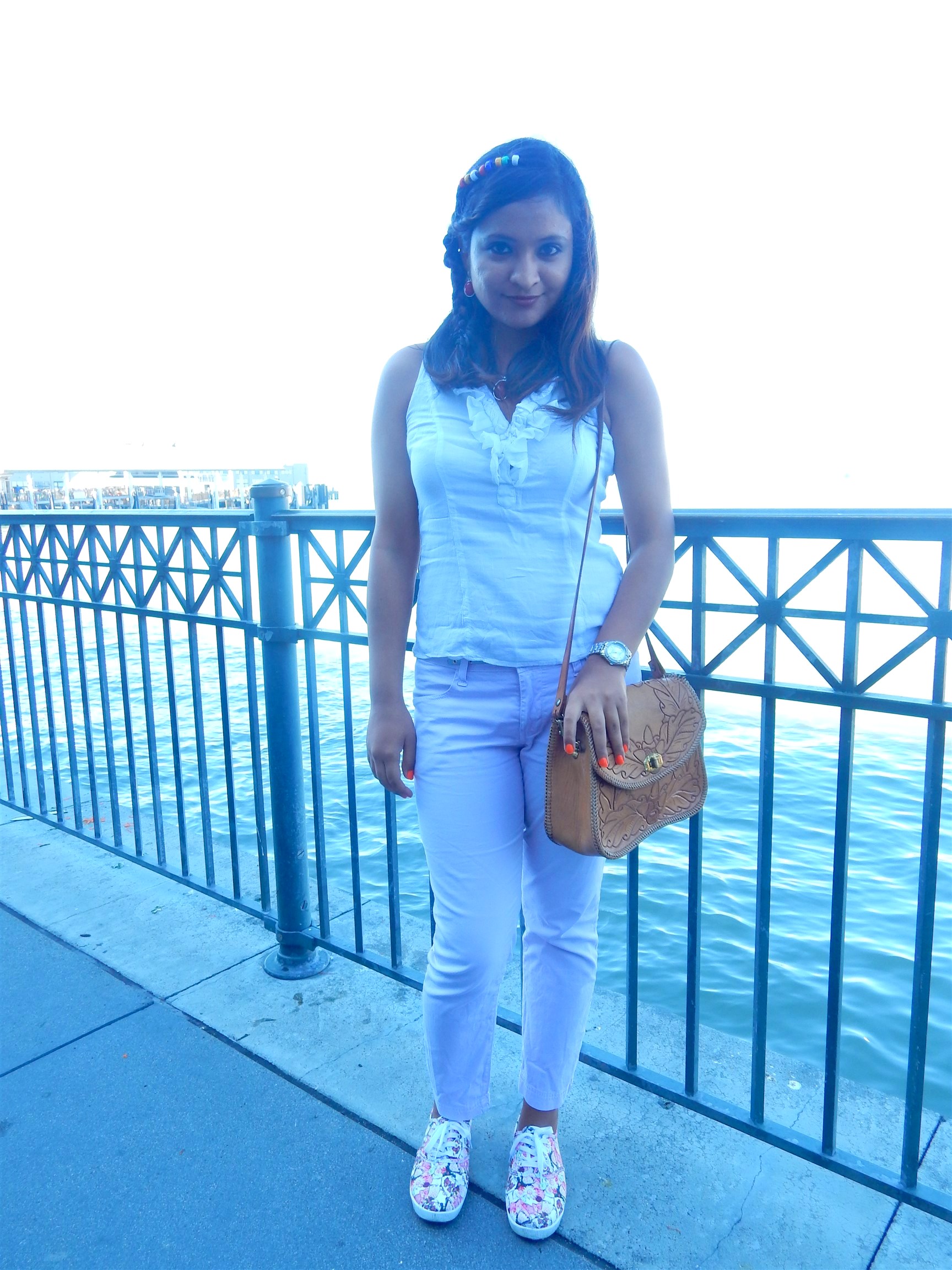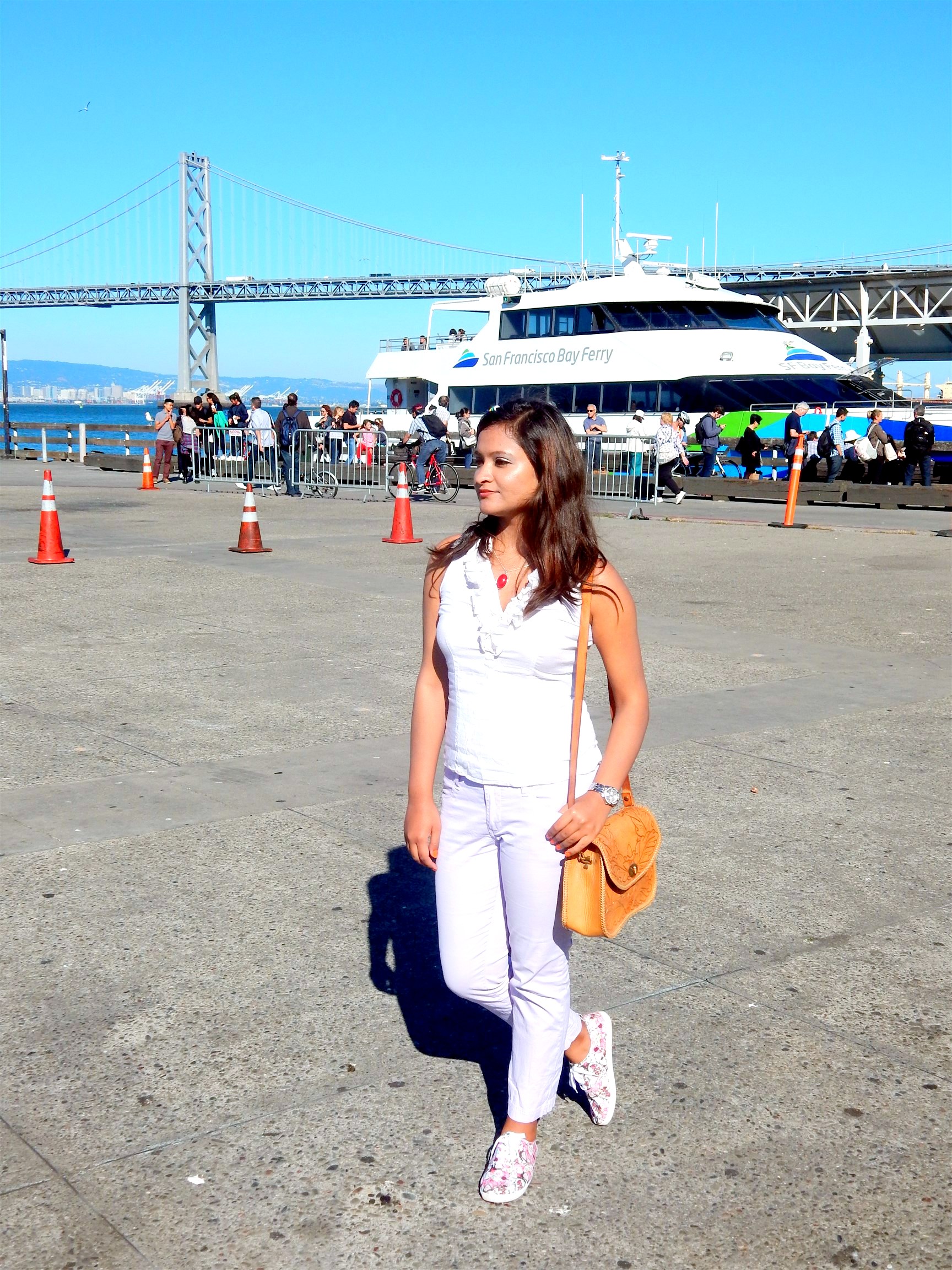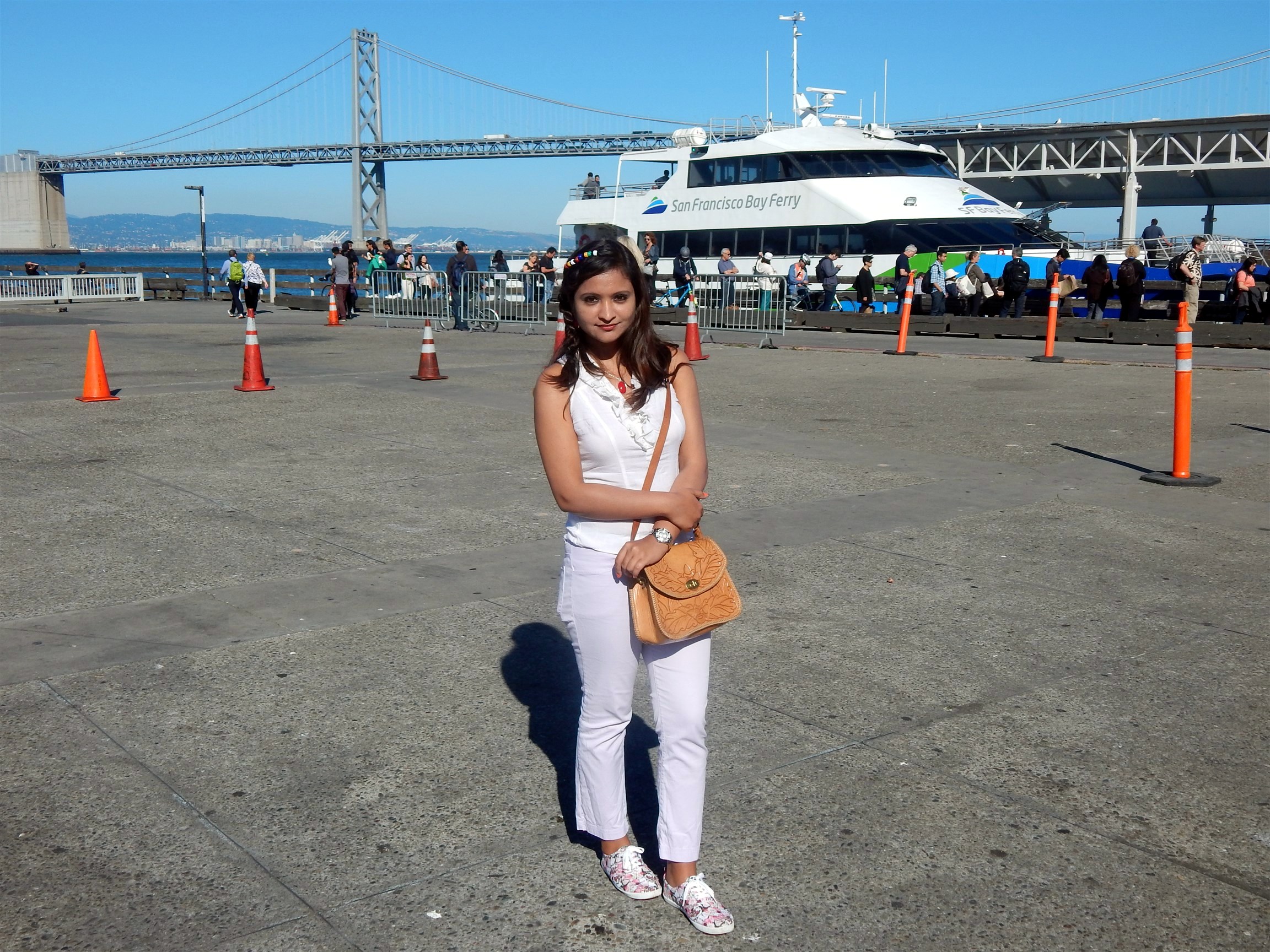 Pant – Provogue | Shirt – AND | Bag – Vintage | Shoes – H&M | Watch – Guess| Accessories – Claire's
One of the Friday's when I decided to start my weekend early, I wore white bottom and top and carried my favorite vintage bag that I bought from Treasure Island's Flea market. I was surprised to see how well it blended with my outfit. I have been wearing H&M's spring shoe collection a lot lately and you will notice that in many of my blogs. It was after I noticed my pictures that I realized I looked thinner and taller than usual! I was glad to discover the secret of looking thin in spite of having an empanada stuffed in belly (Gosh! I love them)!
We took these pictures outside of Ferry building which is one of my favorite spots to hangout in San Francisco and why not? This place is always so happening, full of people doing stunts, street and farmer's market, amazing olive oil and bread places, pier view and so many other things! I wont be able to complete describing how amazing Ferry building or SOMA (South of market in San Francisco is) so I will be dedicating an entire blog to it as this place totally deserves that!
Here are my tips on looking thinner and taller by wearing right outfit:
1. Match up your tops and bottoms: And by saying that I mean, wear one plain color like I wore plain white which had no prints on it. I would suggest you to wear a light and bright color. Only dark color that would support my theory is black!
2. Body hugging is the way the way to go: Make sure both that your clothes(and yeah, you must wear a top and pant) are body fitting enough. Skin tight jeans are not really needed but anything that fits your legs well will do the magic.
3. Ankle length pants: If you don't have one, just fold the bottoms of your pant inwards to make them look ankle length and make you look taller!
4. Sleeveless/halter neck tops: They always highlight you shoulders well so feel free to wear a halter neck top if you have a nice back and shoulders and you wanna bare them. Those of you who have a thinner upper body, this one trick can make you look overall thin when in doubt.
5. Wear your sneakers: Since you are wearing an ankle length pant, wear a matching pair of sneakers. You might be surprised that I din't ask you to wear high heels but yeah, sneakers will do the trick with your pants and they are definitely comfortable!
Personally, I am a real comfort comes first believer and I try to make my daily fashion experiments as comfortable as possible and since I walk a lot each day, I prefer to wear my flats over heals. Well, when you can look taller by wearing sneakers, what else do you need?! These are the advantages of wearing white outfit this summer!
Leave a Comment Here
comments